Media Inquiries:   
Caritas Malta Epilepsy Association
Frank Portelli- President, +356 77081450

February 13: International Epilepsy Day 2023
This year's theme for International Epilepsy Day (13 February), "Step Up Against Stigma", provides a platform for people with epilepsy, and those who care for them, to dispel myths with facts.
"Epilepsy affects almost every aspect of the life of the person diagnosed with the condition," said Dr. Francesca Sofia, president of the International Bureau for Epilepsy (IBE). "For many people living with epilepsy, the stigma attached to the condition is often more difficult to deal with than the disease itself."
In many countries, lack of awareness about epilepsy as a treatable brain condition remains a central public health challenge. Educating people about epilepsy and dispelling myths can reduce stigma and discrimination at school, at work, in the clinic, across the community and at home.
In Malta, the volunteers at Caritas Malta Epilepsy Association are doing their part by offering free educational trainings to diverse groups including the police recruits, schools (both teachers and LSEs), Agenzija Sapport, and others. They also organize bi-monthly meetings for people with epilepsy and their caregivers. For more information contact maltaepilepsy@gmail.com.
A Global Action Plan 
In 2022, the World Health Organization endorsed the Intersectoral Global Action Plan on Epilepsy and other Neurological Disorders [IGAP], which aims to reduce the stigma, improve access to treatment and reduce the burden of neurological disorders, as well as improve the quality of life of people with neurological disorders, their caregivers, and families.
IGAP contains a specific strategic objective of strengthening the public health approach to epilepsy, which calls for 80% of countries to have developed or updated their legislation to promote and protect the rights of people with epilepsy by 2031.
 "IGAP speaks directly to the mission, needs, and aspirations of the global epilepsy community," said Helen Cross, president of the International League Against Epilepsy (ILAE). "It is therefore a powerful tool to help us close the current unacceptable inclusion, treatment, prevention, and research gaps in epilepsy."
Commemoration events around the world
International Epilepsy Day is celebrated in more than 100 countries, with epilepsy organizations and advocates scheduling ministerial meetings, informational workshops, awareness-raising campaigns, fundraising events, and social media activity. 
In Malta, the Caritas Malta Epilepsy Association (CMEA) is proud to be launching several new informational items that were recently developed through the "Freedom to Live" Grant 2022 granted by the Ministry for Inclusion, Voluntary Organisations and Consumer Rights. On Wednesday, February 8th, samples of the booklet, leaflet, posters, bookmarks, t-shirts and bracelets will be presented to the Honourable Julia Farrugia Portelli, Minister of Inclusion, Social Wellbeing and Voluntary Associations. These items will be used in the trainings to help raise awareness and reduce stigma.
CMEA is also launching a logo designed in partnership with MCAST student Matthew Theuma, who joined CMEA as part of his volunteer hours with MCAST Community and Social Responsibility course. The logo is intended to help educate the public that 1 in 100 persons worldwide have epilepsy, as well as to help let people know that Caritas Malta Epilepsy Association (CMEA) is working for a better life for people with epilepsy in Malta.
#1in100CMEA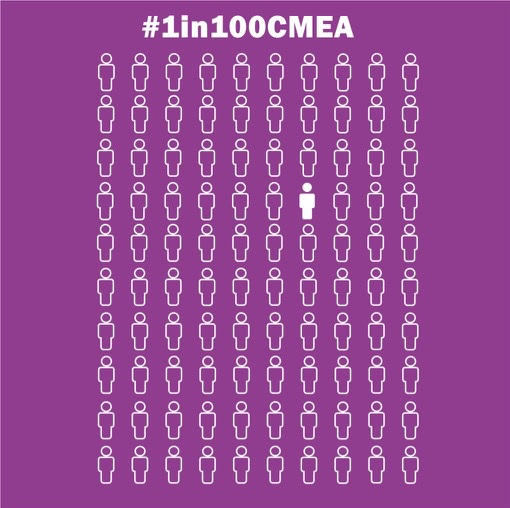 Furthermore, as in previous years, several prominent buildings across multiple localities will shine the light on epilepsy by turning the facades purple, the international colour of epilepsy. Over the weekend of February 10th, 11th and 12th and on to the 13th, these buildings will include the Pembroke, Birzebbugia, San Gwann, Safi, Zurrieq and Ghajnsielem Local Councils; Ministry of Social Justice and Children's Rights (Palazzo Ferreria, Valletta), Ministry for Inclusion and Voluntary Organisations (Palazzo Francesco, Lija), Ministry for Health (Palazzo Castellana, Valletta), and the Office of the Prime Minister (Auberge de Castille, Valletta).
The International Bureau for Epilepsy and the International League Against Epilepsy are encouraging the community to print out an 'Epilepsy Is…' placard and to write a message that dispels myths with facts. These messages can be shared online to mark the day. 
Join the online conversation using the hashtag #EpilepsyDay and following @IBESocialMedia @IlaeWeb. Please also use #1in100CMEA.
For more news, assets, and stories, visit the International Epilepsy Day website- https://internationalepilepsyday.org.
About Epilepsy 
It is estimated that more than 50 million people are living with epilepsy around the world [Source: WHO]
The provision of safe, effective, and highly affordable ($5 per person/year) anti-seizure medicines could control seizures in up to 70% of people with epilepsy. [Source: WHO]
Epilepsy ranks among the top five causes of global neurological disability; an estimated 125,000 deaths per year globally are related to the condition. Untreated epilepsy is a life-threatening disorder. The death rate for people with epilepsy is three times that of the general population. [Source: WHO]
Every fourth case of epilepsy could be prevented by addressing and minimizing risk factors, such as stroke, brain infections, birth injuries, and head trauma. However, prevention strategies remain limited and underexplored. [Source: WHO]
People with epilepsy are disproportionately affected by other conditions as well, such as depression, anxiety, dementia, migraine, heart disease, peptic ulcers, and arthritis. [Source: WHO]