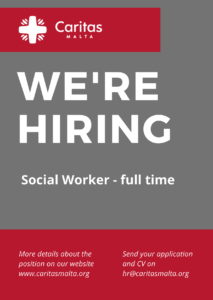 SOCIAL WORKER – full time
The Position
Fondazzjoni Caritas Malta invites applications for the role of Social Worker to work in the Social Work Unit on a full-time basis. Candidates who wish to work on reduced hours will also be considered.
The Role
The social worker is a key element in the chain of services provided within Fondazzjoni Caritas Malta. The selected person is expected to conduct assessments of clients who drop-in or phone at the office requesting help, and carry out generic social work interventions with service users depending on their needs. These include office sessions, home visits, as well as crisis interventions. In addition to this, the social worker has to support and help out in the coordination of the various support groups that are provided by the unit. The chosen candidate shall also facilitate workshops to the public and hold interventions in the media when necessary.
The social worker is required to uphold social work best practices and values, delivering a professional service aimed at promoting the well-being and dignity of service users. The social worker is directly accountable to the Head of Unit.
The Person
The individuals interested in this role have to meet the following requirements:
Possess a recognized degree in Social Work;
Be highly organized, accountable, and a hold a professional work ethic;
Able to work on own initiative and also have a strong aptitude for teamwork;
Possess excellent verbal and written communication skills in both Maltese and English;
Be mature with sound moral and social values;
Be IT literate;
Possess a clean driving licence;
Interested individuals are invited to express their interest by sending their applications together with their CV and other relevant documentation to the Human Resources Manager via email on vacancies@caritasmalta.org. Qualifications and experience claimed must be supported by certificates and/or testimonials.