Different services under one roof
This project being proposed by Fondazzjoni Caritas Malta (VO/1576) aims at tackling emerging challenges which are changing the face and fabric of society. This has highlighted the need for Caritas to invest and open a modern Centre, in a central location in Blata l-Bajda which is to be named Caritas Community Centre. The Centre will house all the non-residential community services, thereby adding more quality, value and accessibility to these services. Furthermore, it will for the first time, provide a unique opportunity to house new services to hundreds more of beneficiaries, including:
Continuous service for persons who have successfully completed a drug/alcohol/gambling rehabilitation programme, providing them with the required life-long support and follow-up with the Aftercare Unit.
A multi-purpose hall hosting regular social activities for the above-mentioned self-help groups.
A roof garden offering a relaxed space for all the beneficiaries of our community services.
A reserved area to store basic items and foodstuff for the needy.
The administrative offices of the organisation.
The proposed project entails a certain amount of capital investment, which was estimated to cost €4,614,520 (inclusive of VAT), which will include demolition and construction works, the supply and installation of plant and machinery, and furnishings and finishes.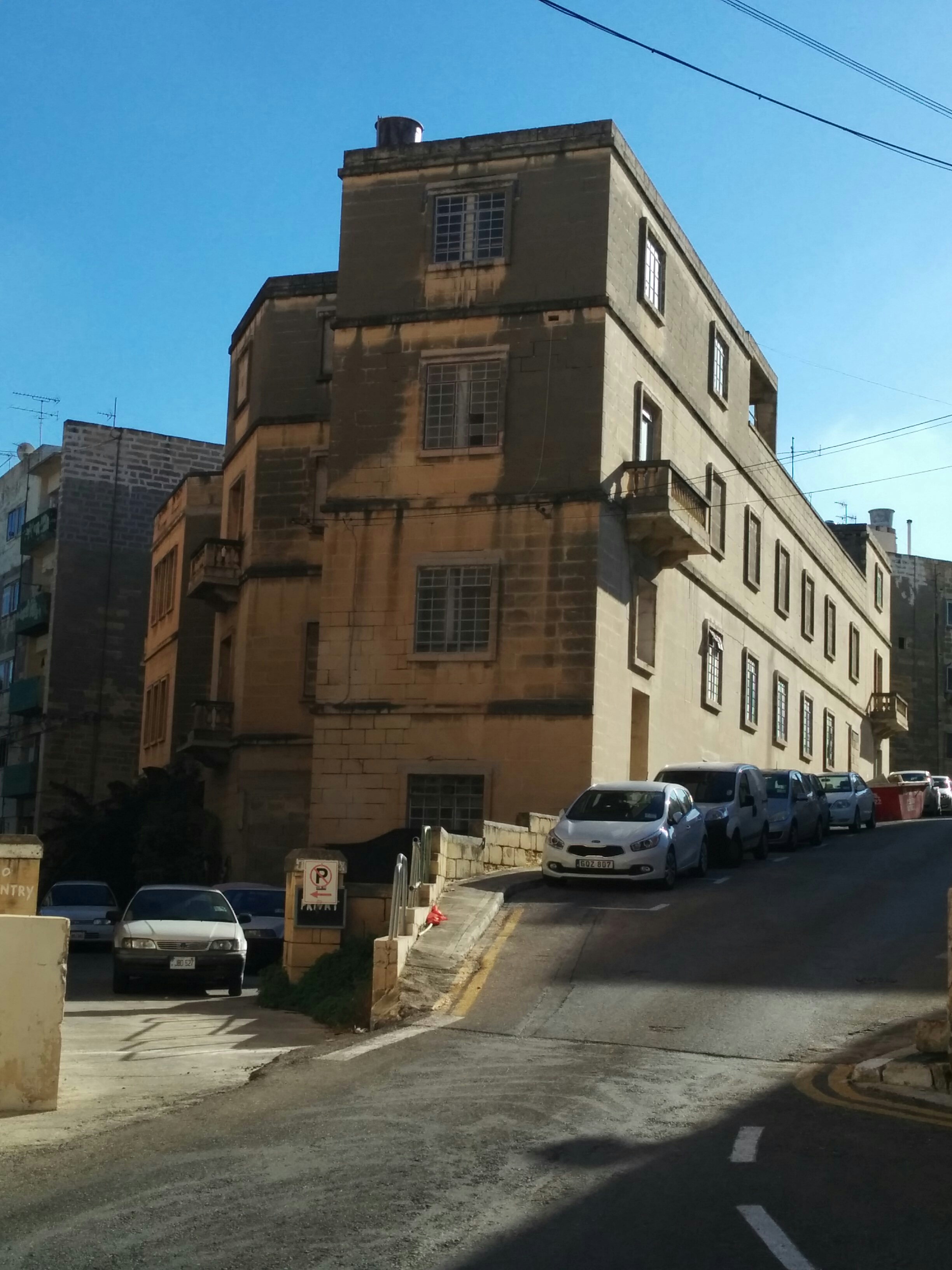 Capital expenditure and financing are the following:
The project has been submitted under Operational Programme I – European Structural and Investment Funds 2014-2020 'Fostering a competitive and sustainable economy to meet our challenges' – Project part-financed by the European Regional Development Fund – Co-financing rate: 80% European Union; 20% National Funds (ERDF.08.142 Caritas Community Centre).
The 20% National Funds are made up of:
National Social and Development Fund (NDSF)
The Alfred Mizzi Foundation
The Foundation Malta Community Chest Fund
Ministry for Education and Employment (MEDE), Parliamentary Secretary for Youth, Sport and Voluntary Organisations
Caritas Malta
Information about the project can be found below:
Application Number: PA/07636/17
Location: Caritas Community Centre, Triq Mountbatten c/w Triq San Gorg Preca, Sqaq il-Kubrit, Blata l-Bajda, Malta
Proposal: To demolish rooms at roof level, carry out alterations to the existing facade and to the existing vacant building; construct two additional floors including an intermediate level and construct a new fire escape stairs, creating a community centre for Caritas with ancillary facilities. To install Photovoltaic system at roof level
Billboard erected on site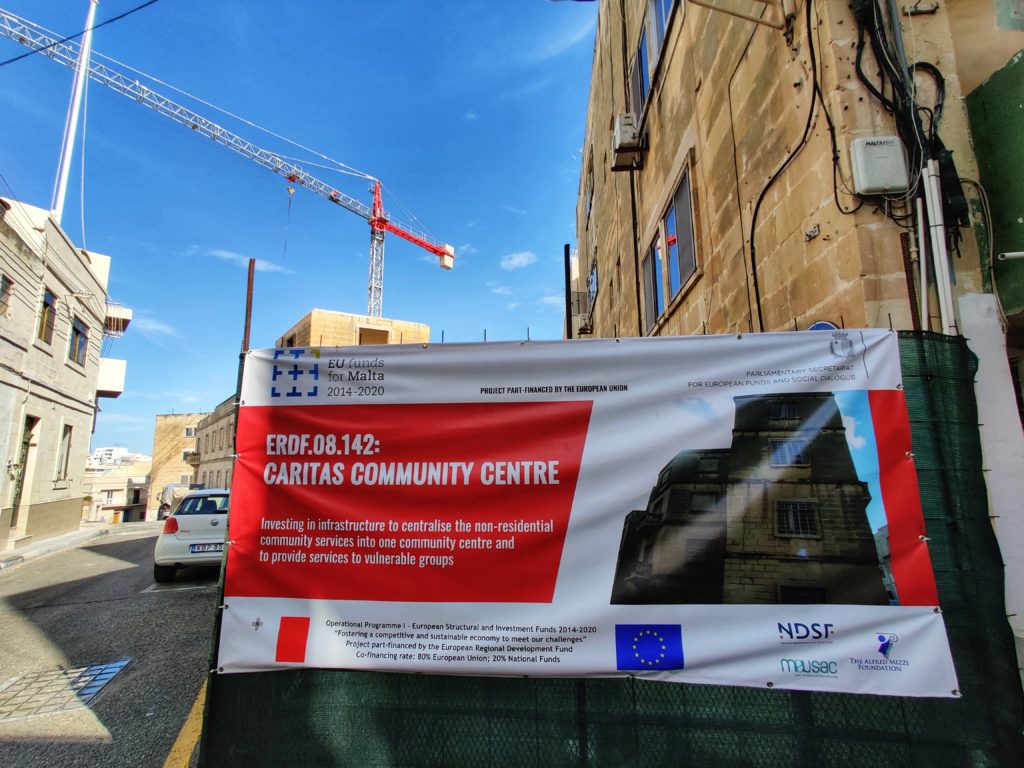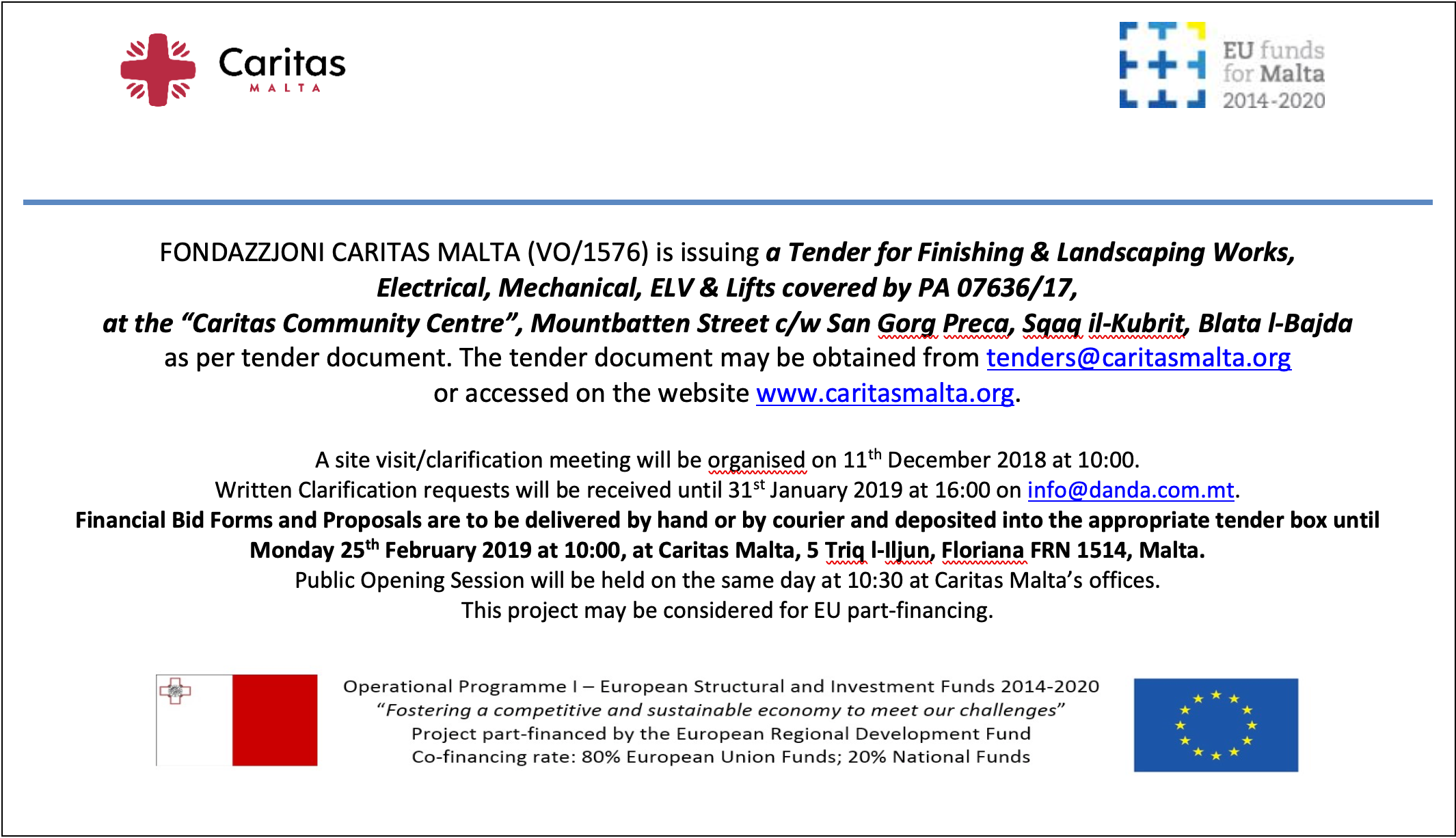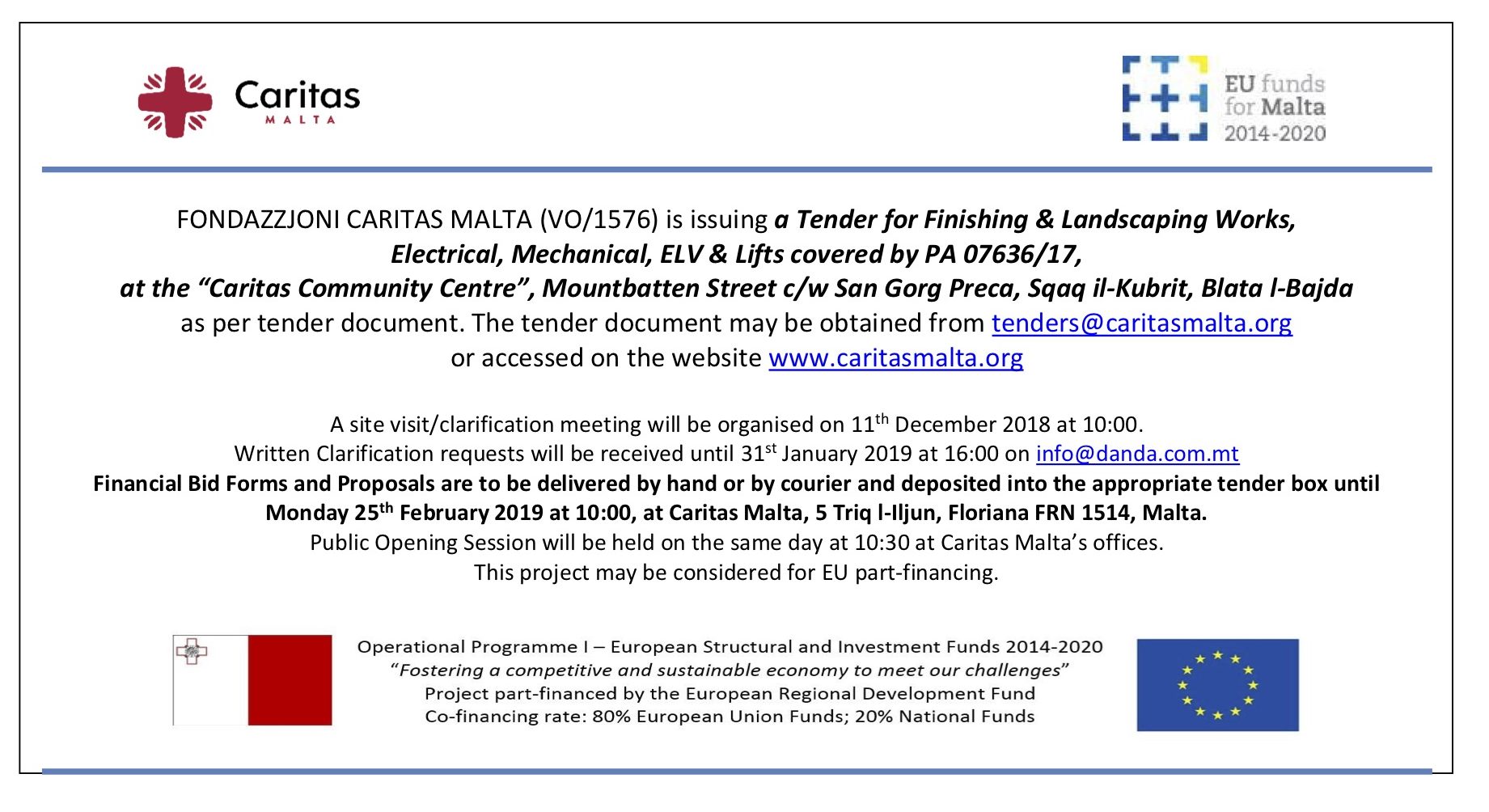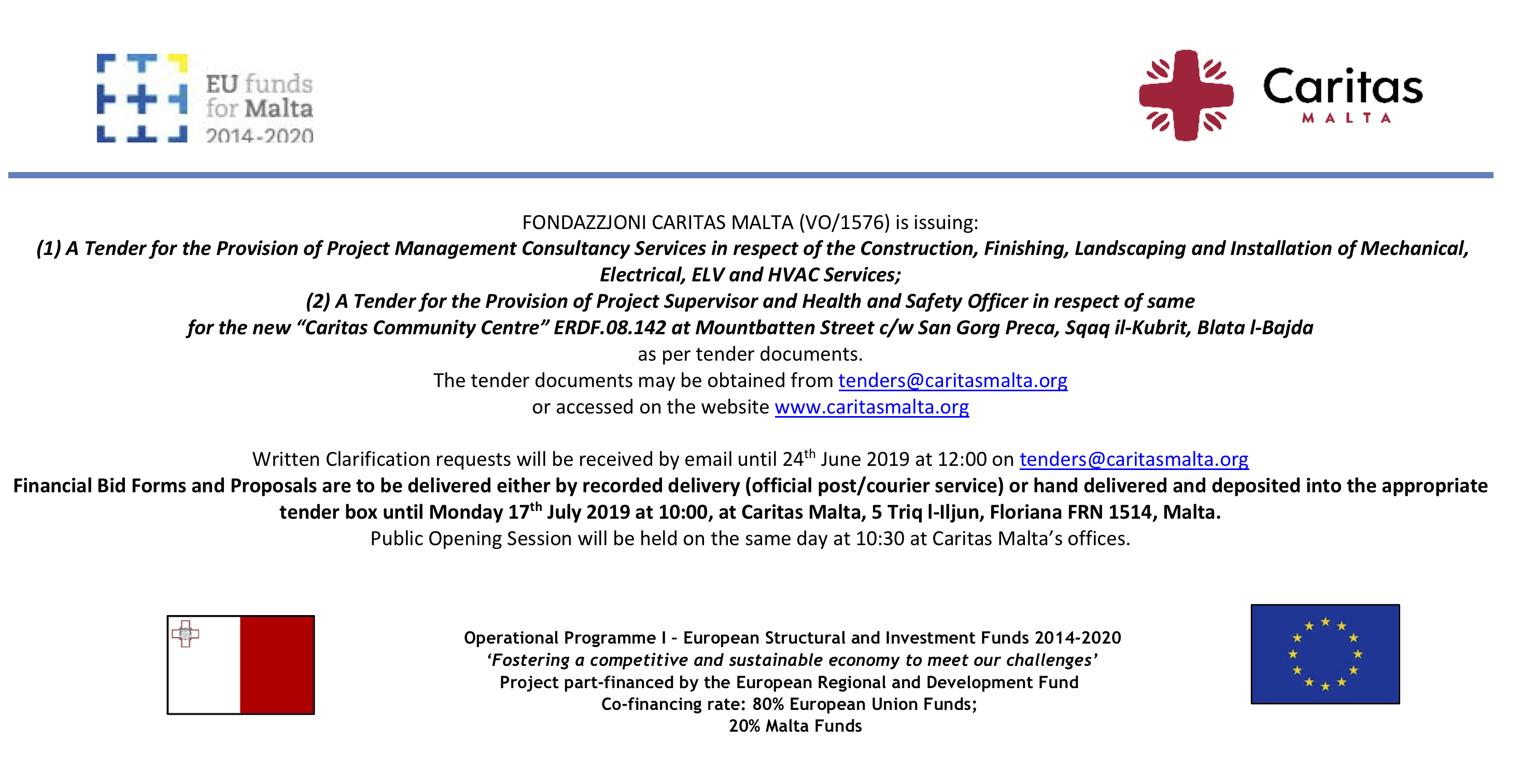 Tender Opening Sessions & Award of Tenders
Tender for Construction Works, Caritas Community Centre, Mountbatten Street, c/w San Gorg Preca Street, Sqaq il-Kubrit, Blata l-Bajda
Submission of bids … follow link for relevant document
Award of Tender … follow link for relevant document
Tender for Finishing & Landscaping Works, Electrical, Mechanical, ELV & Lifts at the Caritas Community Centre, Mountbatten Street c/w San Gorg Preca, Sqaq il-Kubrit, Blata l-Bajda
Submission of bids … follow link for relevant document
Award of Tender … follow link for relevant document
Tender for the Provision of Project Management Consultancy Services in respect of the Construction, Finishing, Landscaping and Installation of Mechanical, Electrical, ELV and HVAC Services for the Caritas Community Centre Project ERDF.08.142 – Tender Opening Session
Submission of bids … follow link for relevant document
Award of tender … follow link for relevant document
Tender for the Provision of Project Supervisor and Health and Safety Officer in respect of the Construction, Finishing, Landscaping and Installation of Mechanical, Electrical, ELV and HVAC Services for the Caritas Community Centre Project ERDF.08.142 – Tender Opening Session
Submission of bids … follow link for relevant document
Award of tender … follow link for relevant document
Tender for the Provision of Coordination Services for Fondazzjoni Caritas Malta (VO/1576) for the Caritas Community Centre Project ERDF.08,142 Mountbatten Street c/w San Gorg Preca, Sqaq il-Kubrit, Blata l-Bajda
Submission of bids… follow link for relevant document
Clarifications
Assisting the co-financing of this Project:

Financially supported by: